CBSE Term 2 Date Sheet 2022 for class 10, 12 practical exams has now been announced by the board. CBSE Term 2 Time Table 2022 सीबीएसई ने एक आधिकारिक नोटिस में साझा किया है कि कक्षा 10 के लिए आंतरिक परीक्षा और कक्षा 12 के लिए प्रैक्टिकल परीक्षा 26 अप्रैल से शुरू होगी। स्कूलों को संबंधित कक्षा की थ्योरी परीक्षा समाप्त होने से 10 दिन पहले व्यावहारिक परीक्षा पूरी करनी होगी। CBSE Term 2 Class 10th, 12th Date Sheet 2022
केंद्रीय माध्यमिक शिक्षा बोर्ड, CBSE Term 2 Date Sheet 2022 को प्रैक्टिकल परीक्षा के लिए जारी किया गया है। बोर्ड ने जारी एक आधिकारिक अधिसूचना में पुष्टि की है कि CBSE Term 2 Class 10th, 12th Date Sheet 2022 की practical परीक्षा 26 अप्रैल, 2022 से शुरू होगी। बोर्ड ने सीबीएसई कक्षा 10, कक्षा 12 के लिए व्यावहारिक, आंतरिक परीक्षाएं आयोजित करने के लिए दिशानिर्देश भी जारी किए हैं। कक्षा 2। परीक्षा।
आधिकारिक नोटिस के अनुसार, स्कूलों को संबंधित कक्षा की थ्योरी परीक्षा समाप्त होने से 10 दिन पहले 26 मार्च, 2022 से व्यावहारिक परीक्षा आयोजित करने की आवश्यकता है। हालांकि बोर्ड ने पिछले हफ्ते एक आधिकारिक अधिसूचना में पुष्टि की थी कि सीबीएसई कक्षा 10, 12 वीं टर्म 2 परीक्षा 2022 26 अप्रैल से शुरू होगी, विस्तृत डेटशीट अभी भी इंतजार कर रही है। इसलिए प्रायोगिक परीक्षा की अंतिम तिथि थ्योरी डेटशीट पर आधारित होगी। परीक्षा आयोजित करने के लिए दिशानिर्देश नीचे सूचीबद्ध हैं।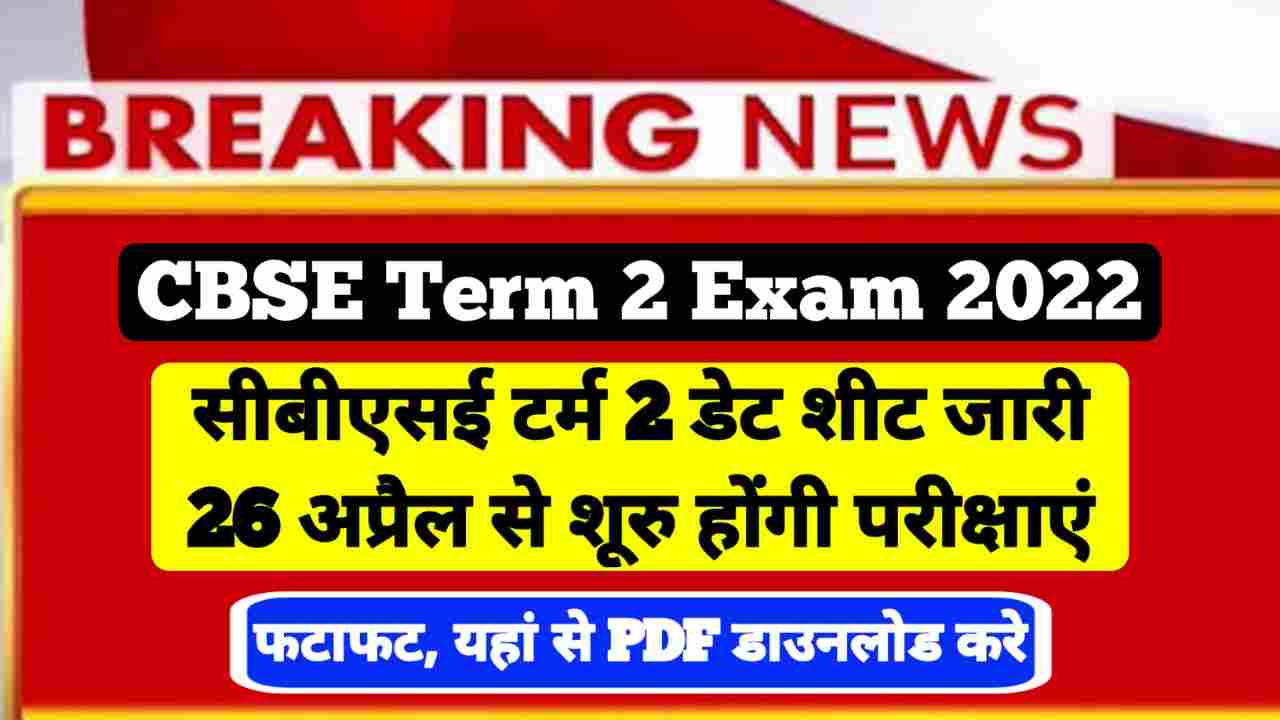 CBSE Term 2 Overview 2022 | CBSE Term 2 Time Table 2022
A few important points or details about the Term-2 Examination are as follows, check them out below.
| | |
| --- | --- |
| Country | India |
| Organisation | Central Board of Secondary Education |
| Examination | Intermediate (12th) & Matriculation (10th) |
| Examination Year | 2022 |
| Examination Academic Year | 2021-2022 |
| Examination Term | Annual / Second / Final (Term-2) |
| Term-2 Examination Start Date | 26th April 2022 |
| Term-2 10th Time Table | To Be Announced |
| Term-2 12th Time Table | To Be Announced |
| Official Website | cbse.gov.in |
CBSE Class 10, 12 Term 2 Practical Exam/ Internal Examination – Guidelines
For class 10 regular candidates, the internal examination will be conducted by the schools and the marks will be uploaded. The practical examination will also be as per the syllabus prepared for Term 2. Notice in respect of the same was shared earlier.
External examiners will be appointed for regular candidates of Class 12, but there will be practical exams. Practical examinations of both 10th and 12th will be conducted in the schools. All COVID protocols will be followed in schools.
For private candidates, no practical examination will be conducted. The marks will be extended beyond the 2020-21 result. Private candidates are not required to appear for any practical examination. For private candidates who appear in the exam before 2020-21, marks will be awarded on a proportionate basis.
CBSE Term 2 Time Table 2022, 10th & 12th Exam, Date Sheet @cbse.gov.in
The answer sheets will be supplied by the regional offices and the schools will have to ensure that they are filled properly. Examiners will be appointed by cbse and schools cannot make 'alternative arrangements'. The schools will also have internal examiners while the board will have a supervisor and an external examiner.
Students please note that different dates for the practical examination for different schools have not been fixed by the Board. The schools, in consultation with the assigned external examiner, will fix a date for practical examination of class 10, 12. The date sheet for the CBSE Term 2 Theory paper will soon be released by the board on cbse.gov.in.
Important Links – CBSE Term 2 Time Table 2022

Download Class 12th Time Table

Download Class 10th Time Table

Join Our Telegram Page

CBSE Board Official Website
 सबसे पहले लेटेस्ट अपडेट पाने के लिए इन ग्रुपों को अभी जॉइन करें.