SSC MTS Bharti : हर साल की तरह आज से कर्मचारी आयोग द्वारा मल्टीटास्किंग स्टाफ के पदों पर भर्ती जारी की गई है, ऐसे में इस भर्ती की प्रक्रिया बड़े स्तर पर होती है, और बेहतर तरीके से इसमें पाए जाने वाले पदों पर भी नियुक्तियां दी जाती हैं, अगर आप 18 साल के हैं, तो आपको इस भर्ती के लिए आवेदन करना होगा बहुत बेहतर और अधिक महत्वपूर्ण सभी भर्तियों के लिए जारी होने वाली सभी भर्तियों के लिए आवेदन करना होगा SSC द्वारा। रंगरूटों में से एक।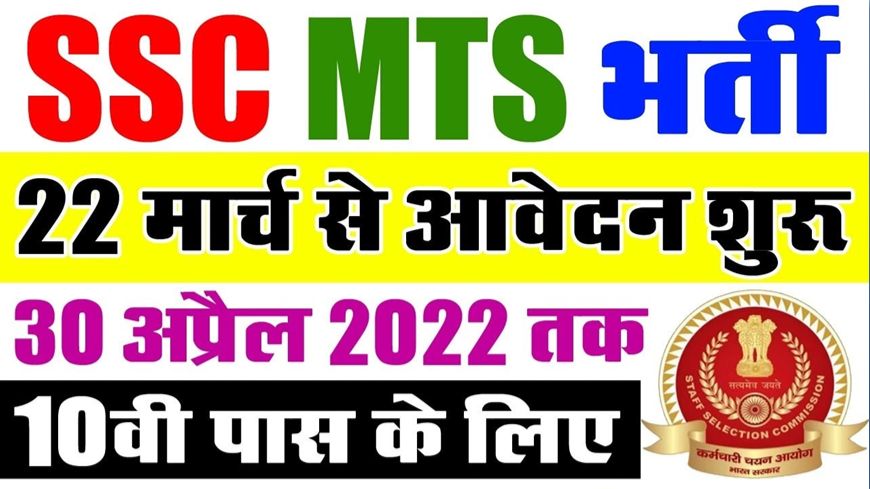 | | |
| --- | --- |
| Organization name | Staff Selection Commission [SSC] |
| Post name | Multi–Tasking Staff [MTS] |
| Total vacancy | Diverse |
| Job location | All over India |
| Frequency | Once a year |
| Application mode | Online |
| Application started on | 22 March 2022 |
| Last date to apply | 30 April 2022 |
| Application fees last date | 30 April 2022 |
| Website | www.ssc.nic.in |
SSC MTS Bharti
कर्मचारी चयन आयोग ने हाल ही में SSC Multi Tasking Staff Non-Technical MTS Recruitment Online Form 2022, के लिए आवेदन आमंत्रित किए हैं, जिसके लिए लाखों उम्मीदवार आज से ही आवेदन करना शुरू करने जा रहे हैं, पूरी भर्ती प्रक्रिया और पात्रता के बारे में नीचे दिए गए सभी आवश्यक निर्देश पढ़ें। सावधानी से।
कर्मचारी चयन आयोग (SSC) विभिन्न राज्यों/राज्यों का एक हिस्सा है। केंद्र शासित प्रदेशों के विभागों / विभागों के कई केंद्र सरकार के Departments/Departments Multitasking (Non-Technical) Staff, Group "C" will conduct the exam for recruitment of candidates for Non–Gazette के लिए उम्मीदवारों की भर्ती के लिए परीक्षा आयोजित करेंगे।
SSC MTS Eligibility
कर्मचारी चयन आयोग द्वारा भर्ती के लिए परीक्षा प्रश्न पत्र पेपर, उम्र, योग्यता व अन्य जरुरी बिन्दुओ को ध्यान देना जरुरी –
Maximum Age : 25 – 27 Years (Post Wise)
Age Relaxation Extra as per SSC Multi Tasking Recruitment Rules 2022
Application Begin : 22/03/2022
Last Date for Apply Online : 30/04/2022
Pay Fee Online Last Date : 30/04/2022
Paper II Exam Date: Notified Soon
All Category Female : 0/- (Exempted)
सबसे मुख्य बात SSC MTS मे मुख्यत: 2 Paper होते है।
Paper 1 – Written exam
Paper 2 – Descriptive exam
How to apply online for SSC MTS Recruitment 2022?
For this, you have to visit the online portal.
Then click on the apply option on the home page of the website.
On clicking, the next page will open.
After filling in all the details click on submit.
Hope you have got all the information about SSC MTS Recruitment 2022 in our article. So to get all the latest updates first, add our website to bookmark.
Tag:- ssc mts bharti 2022,ssc mts vacancy 2022,ssc mts syllabus 2022,ssc mts 2022,ssc mts notification 2022,ssc mts 2022 notification,ssc mts 2022 preparation,ssc mts 2022 vacancy,ssc recruitment 2022,ssc mts new vacancy 2022,new bharti 2022,ssc mts recruitment 2022,10th pass bharti 2022,ssc mts new bharti 2022,ssc mts 2022 strategy,ssc mts bharti,ssc mts havaldar bharti 2022,ssc mts salary 2022,ssc mts 2022 details,ssc mts bharti 2022 notification
इसे भी देखें :- 👉
Some Frequently Asked Questions
Ques. Is this recruitment organized at the national level?
Ans. Yes, this recruitment has been organized at the national level.
Ques. What is the last date to submit the application fee?
Ans. The last date for the application fee is 30 April 2022.
Ques. What is the educational qualification required to apply?
Ans. You must have passed 10th to apply.
Ques. Will grade pay be given after getting admitted to this post?
Ans. Yes, Rs.1800/- grade pay will be given after being recruited on this post.